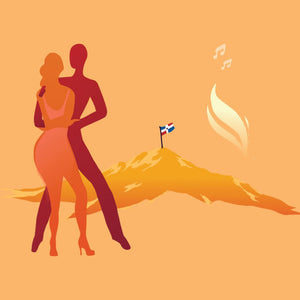 Bachata is the passionate fusion of culture and history in the Dominican Republic. Birthed in the heart of passion and plight, the music and dance known as bachata is the culmination of a beautiful mingling of vibrant cultures. Bachata combines Latin American and Afro-Caribbean influences in a synchronized harmony of guitar-based music with soft, sensual rhythms and romantic lyricism.
Originating from the 1960's Dominican Republic countryside, bachata rooted from disenfranchised communities living at the margins of society due to Rafael Trujillo's 30-year dictatorship. Bachata was far from representing the image of the modern society that Trujillo worked so hard to project. Recurring themes of bachata involved love, lust, despair, crime, and vulgarity—themes that were widely part of life on the margins—and, as with many dictatorships, Trujillo's regime came with intense censorship laws.
This condemnation led to a deeply rooted social stigma against bachata and what it represented, even after Trujillo's death in 1961. Sadly the stigma continued well into the 1970's and bachata held such negative social connotations that the word was even used as an insult for some time. Despite such harsh social perceptions, the art form continued to thrive in poorer neighborhoods, serving as expression for the voiceless. The art revealed social injustices, poverty, and the overall hardships of the lower classes.
By the 1980's, bachata had finally made it to mainstream media and continued its evolution. By the 1990's bachata was more modernized and started incorporating electronic components and altering its tempo. The first "pop-bachata" artists came about, and further evolved to what it is today, representing the vast cultural diversity of the Dominican Republic and serving as a reminder of the social evolution of the country.
As of December 2019, UNESCO inscribed Dominican Bachata in the Representative List of Intangible Cultural Heritage of Humanity. Considering that bachata was once rejected, denounced, and used as an insult, being honored by UNESCO exhibits the cultural importance and social evolution of this signature Dominican art form.
Learn more about our Bachata Smooth coffee.
Bachata Smooth: This blend sourced from the Dominican Republic is complex, playful, and satisfying, just like bachata music.